DAY 21: 21 DAYS OF PRAYER - NOW WHAT?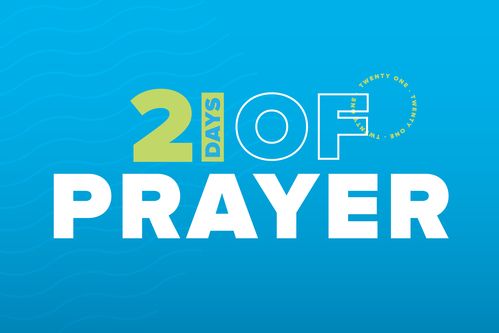 CONGRATS - You did it!
We are thankful for all that God did over the last 3 weeks in the lives of so many. It has been awesome to hear the testimonies of those who have seen blessings in their lives as a result of our 21 day journey. You may be wondering, now what? We want to encourage you - don't stop here! The 21 day journey was a way to kick start new habits in our lives, so keep going strong.

Here are a few tips:
Don't stop praying
21 days of prayer was meant to instill new daily habits in our lives, prayer being a main focus. Don't let your prayer life slow down just because the 21 day journey has been completed! Keep a journal and write your prayers down daily if that helps. How cool will it be to be able to look back on that journal and see all of the prayers God has answered?!

Commit to the First 15 daily
The First 15 is something we use as a way to help get into a routine of spending time with the Lord every single day. This includes: 5 minutes of worship, 5 minutes reading God's word, and 5 minutes praying. You can always refer back to any of our 21 days blog posts when you need some inspiration or guidance! You can also access our prayer guide online here.

Get connected to the right people
Don't do life alone! Who you surround yourself with matters. "Show me your friends, and I'll show you your future". Are the people you're surrounded with supporting you in your journey to draw closer to the Lord? If not, maybe it's time for a new circle. Our Small Group semester kicks off on September 12th! You can find a group of people your age, with similar interests as you by going to myfaithfamily.org/groups

Give God one year
Take the one year challenge! Go all in with God for one year. Truly commit to growing in your relationship with him, learning his word, going to church regularly, and getting to connected to the right people. We believe that you'll look back a year from now and be amazed at all he's done in your life.